Game Downloads
You're located in category:
Jack in The Dark
Review 1:

A mini-game made by Infogrames as teaser to Alone in the Dark 2, Jack in the Dark is a fun short story of a little girl trapped in a toystore who must negotiate a variety of malignant toys and other perils to find her way out. The easy but logical puzzles combined with the unique graphics of Alone in the Dark makes this a good introduction to that series.

Review 2:

This little freeware game made by Infogrames is actually an introduction to Alone in the Dark 2. You play a little girl who got trapped in a toy store. This game is supposed to show all the beauty of AITD2 engine and it does it in a great way. And that's just about all it does. It shouldn't take you more than 10 minutes to complete... Really!
Download full game now: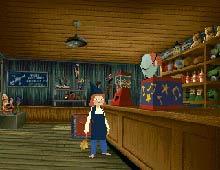 Jack in The Dark screenshot
People who downloaded this game have also downloaded:
Jack The Ripper, Lure of the Temptress, Lost Files of Sherlock Holmes 1 (a.k.a. Case of the Serrated, Lost Files of Sherlock Holmes 2 (a.k.a. Case of Rose Tattoo), Igor: Project Uikokahonia