Game Downloads
You're located in category:
Fellowship of the Ring, The
Review 1:

After developing a quite good interactive fiction game like The Hobbit was I had quite big expectations to this one considering I'm a huge fan of Lord of the Rings. Sadly those expectations were not fulfilled as there are many errors and other weird things in this first part of the famous trilogy.

While the actual graphics and interface have been improved a bit it doesn't add for the numerous bugs in the game as well as the missing words from the dictionary in the game. Commands that are obvious in The Hobbit can't be used in this game at all and often you are wondering how you can then get on in the game. Of there are good things about the game as well as it follows the original story quite well and you can also control more than just Frodo Baggins which is quite unique in the interactive fiction genre where It's normal to just control one main character.

Overall a disappointing game especially if you are a hardcore fan of this genre. I would still say that fans of the Lords of the Rings could find the game somewhat interesting but only because of the story and the characters in the game. But over all a badly developed game that is far worse then The Hobbit.

Review 2:

After the excellent The Hobbit, Beam Software disappointed its fans with this subpar adventure that has almost incomprehensible puzzles, grammatical errors, and an overall drop in quality. It feels almost as if The Hobbit's designers took a long vacation and left some amateur to finish this game. Good for some amusing moments and general Tolkienesque nostalgia, but don't expect it to be half as good as its predecessor. It gets credit, however, for being one of the first computer games that allow you to play multiple characters, in this case Frodo, Sam, and Pippin.
Download full game now: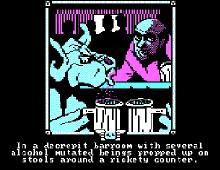 Fellowship of the Ring, The screenshot
People who downloaded this game have also downloaded:
Hobbit, The, Hitchhiker's Guide to the Galaxy, The, Indiana Jones in: Revenge of The Ancients, King's Quest 5: Absence Makes the Heart go Yonder, Crack of Doom