Game Downloads
You're located in category:
Curse of Enchantia
Review 1:

Curse of Enchantia is a graphic adventure game with an icon-based interface. Lil' Brad didn't believe in witches until he met one. The evil hag torments the fantasy land of Enchantia, and has just summoned Brad from the Earth as an ingredient to her potion of eternal youth. Brad doesn't like this plan. And who would be better suited to rid Enchantia of the sorceress than a tender teen? Well? A heavily armed mercenary? Yeah, good point, but there's none available, I'm sorry. Brad'll have to do. Starting in a prison cell, you help Brad free himself and find his way on the ocean floor, through a medieval city, a junk yard and an ice castle. You command Brad via an icon bar that pops up if you press the right mouse button. Our hero can perform plenty of actions, e.g. wearing, inserting, combining or fighting. Apart from steering Brad around, you do not need to click on the screen. Brad has to stand next to the object he wants fiddle with, which will then appear as an icon in the command bar. Curse of Enchantia features an interesting design element: The game manages to do almost without written messages. There are no object descriptions - the purpose of (most) items is apparent. In the rare occasions of interaction with other characters, symbols in balloons substitute words. If there is text on the screen, it's either signs or comic phrases - splash! You cannot die in Curse of Enchantia; in fact, doing potentially deadly things is often rewarded with funny animations.

Review 2:

A good example of the "good concept butchered by poor execution" syndrome, Curse of Enchantia's only feature that is worth mentioning is the fact that it was one of the first CD-ROM adventure games ever released (although it took little advantage of 640MB storage, adding only a longer animated introduction than the floppy version). Way back in 1992, the game was bundled with many first CD-ROM drives, but its real use as a coaster will become apparent soon after one installs the game.

The plot isn't half bad-- it's a typical hero-boy-kills-an-evil-witch story, which, as Roberta Williams has proven, can make successful games. The game, however, has a VERY awkward interface-- picking and using items require a lot of clicks, for one thing, and you'll be tired of clicking after a few screens. This, combined with grainy graphics and poorly written dialogues, more than ensure that the game would remain unseen from the eyes of most players. If you want to play a decent adventure from the house that Lara made, try Universe instead. Proceed at your own risk.
Download full game now: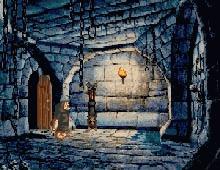 Curse of Enchantia screenshot
People who downloaded this game have also downloaded:
Cruise for a Corpse, Darkseed 2, Darkseed, Beneath a Steel Sky, Azrael's Tear