Game Downloads
You're located in category:
Cirque de Zale
Cirque de Zale is a fun snack-size adventure game from Rebecca Clements that is reminiscent of Monkey Island in all respects: wacky sense of humor, polished graphics, and fun puzzles. Created with Adventure Game Studio, the game uses a typical point-and-click interface that fans of classic LucasArts games will be familiar with. The interface at the bottom of the screen contains simple verbs like LOOK AT, USE, TALK TO and so on, and inventory area to the right that shows objects you are carrying.

The game casts you as a circus worker who was banished to an unknown land by the magician, his employer. Your goal is to start up your own circus on this strange new land - who cares about rescuing maiden in distress anyway? ;) The graphics is very polished and match the quality of Monkey Island, and anyone who has played Monkey Island 2 will find more than a few locations familiar. Although Cirque de Zale is a relatively short game you can finish in 3-4 hours at most, it is very fun while it lasts, thanks to superb dialogue writing that drew more than a few chuckles from me. The cast of NPCs you will meet is diverse, and are characterized very well. Puzzles are a bit on the easy side, but you will have so much fun you won't notice :) For anyone who misses early Monkey Island games, Cirque de Zale is a delightful "old school" adventure game that pays homage to that classic.
Download full game now: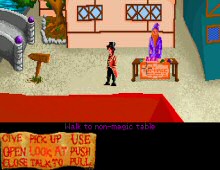 Cirque de Zale screenshot
People who downloaded this game have also downloaded:
Callahan's Crosstime Saloon, Clue!, The (a.k.a. Der Clou!), Apprentice II: The Knight's Move, Flight of the Amazon Queen, Cosmology of Kyoto