Game Downloads
You're located in category:
Ace Ventura
Review 1:

One of 7th Level's most obscure releases before fading into obscurity, Ace Ventura is a decent cartoon adventure starring the wacky cartoon series of the same name which was popularized by a Jim Carrey movie. Despite featuring some hilarious voice acting and excellent animation, Ace Ventura is ultimately little more than an average adventure game that's disappointingly short and easy. GameSpot has the lowdown on this one:

"Dude, pull my finger. Did that make you laugh? Then you're probably going to like Ace Ventura. Borrowing from the Ace Ventura cartoon series, the game features all the same gags, mannerisms, and obnoxiousness from the world's famous pet detective - the kind of stuff that's so stupid, you have no choice but to laugh. And it's the humor that keeps the game afloat.

The gameplay you've seen a dozen times before. Once again, Ace is on the case, this time traveling the earth looking for a lost creature. Masters of click-and-solve games will be able to finish the entire game in no time flat. In fact, a lot of it is so simple, you'll figure out that the game is partly designed for young children. The objects and scenes have that bright, bulky Fisher Price quality. And if you ever actually get stuck, a special button on Ace's watch delivers audio clues that take out most of the guesswork. There's even a setting that lets parents edit out some of Ace's choice phrases, although even without the parent setting on, Ace's language barely goes beyond third-grade bathroom humor. The various puzzle-filled scenes are sporadically broken up by arcade-lite action. Slightly challenging tasks like swimming through the murky waters of the deep, avoiding trash and oil slicks, and getting in a basic laser fight are a nice way to mix things up.

Although Ace Ventura doesn't claim to break new ground, it possesses one nice feature that all developers of endlessly-clicking adventure games should take note of. When you click on an object that you don't need, Ace pipes up with such witty things as "Yeaaaahhhh righht!" and "not enough upper body strength." That alone saves hours out of wandering around, which is usually nothing more than absolutely frustrating. All told, it's Ace's lowbrow humor that makes this a fun game to play. As in a lot of adventure games, long, drawn-out stories are told in between each level. But refreshingly, the scenes are actually entertaining - a good thing, since there's no way to skip them. You'll likely cruise through this title with ease, but you'll have plenty of fun getting there." The humor, albeit sophomoric in some places, and hilarious animations make the game well worth the huge download, although expert adventure gamers will find the game disappointingly easy.

Review 2:

He's back! The zany, dim witted, moronic Pet Detective is back and this time he comes in the form of a point and click adventure title for DOS which I found to have really enjoyed. This 7th Level game is your standard point-n-click adventure game. A situational puzzler, you go around the world finding items and using them when needed. Taking control of Ace Ventura, you travel from Alaska via the magic land Volcanic to Bavaria in this comic adventure to do what Ace does best, saving helpless animals.

You will be confronted with a variety of "animal-haters" who will try to thwart Ace's investigation. The difficulty setting here from my standards would be ranked as a 3 (out of 5). Most puzzles can be solved within minutes. Other features include the racing scene with the snowmobiles, and some wild conversations with some scantly clad Eskimos.

The characters you will meet in this game range from scholars to complete morons. The dialogue in the game is fantastic, and Ace will keep you laughing with his witty comebacks and (stupid-slapstick) comedy. There was an option in the original game, where you could change something in the .INI in the folder and "unlock" the teen version. The game, as it stands is in "kid friendly" form. If I remember correctly the teen version has a little stronger language and shows a little bit more in the Eskimo scene.

The graphics were a real surprise to me. They are a mix of wild colours and wacky animations makes this a very "cartoonish" world to play in, and it's very enjoyable to look at. The pointer is easy to use, as it will change when you hover it over something of importance.

In my opinion, this Ace Ventura game is even better than the movie itself. You have a lot more fun becoming Ace! This game is said to be an excellent edition that people of many different ages should try out. That means you! This game is not only funnier than the movie, but it has great graphics as well. The game play is fun and exciting! The content is very funny, those small jokes that are so dumb, you can not help but laugh at them! Once you start playing this game you are not going to want to stop.

Although it has never left me with the feeling of accomplishment that some other point and click adventures did, I definitely think you need to give this title a shot if you enjoy these types of games.
Download full game now: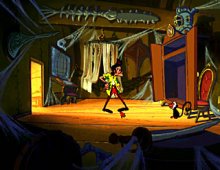 Ace Ventura screenshot
People who downloaded this game have also downloaded:
Beavis and Butthead in Virtual Stupidity, Jurassic Park, Gobliiins, Gobliins 2, Goblins 3