Game Downloads
You're located in category:
Beavis and Butthead in Virtual Stupidity
Review 1:

GameSpot once again came through with a great (meaning I perfectly agree with) review of this highly underrated, "campy" adventure game:

"Parents beware, the two relentlessly infantile voices of a lost generation have made the jump in screen resolution from MTV to your computer. What's funny is that they don't look any better. In fact, the crudely-drawn stylized artwork of the television series is accurately reproduced on the jagged lines of a computer screen. To complete the effect, Viacom New Media borrowed the original voice talent from the series, which creates a very smooth transition from linear to interactive, and in the process one very funny game.

All you'd expect from the eternally juvenile duo is here: fart jokes, painfully obvious sexual innuendoes, glorification of anything illegal or immoral, and the fruitless pursuit of girlfriends with one-liners such as, "Hey, um, do you like to do, like, stuff?" As with the show, the writers' satirical genius puts these antics into a perspective that makes everything undeniably funny. You appropriately control the two half-wits with a simple set of commands, using a mouse-driven interface that looks and operates suspiciously like a LucasArts adventure game.

In fact, Virtual Stupidity is largely unoriginal in its approach to interactive adventures, and even some of the puzzles are secondhand fare. But that's just not the point here. What makes this game so entertaining (and I gleefully played it through to the end) are the actions and reactions of the intelligence-challenged duo to the people and objects around them. Imagine the two as they interrogate patients on a mentally-deranged ward at the local jail. Or picture the look on Beavis' face as he inflates his shorts with a gas station air hose. Priceless. Some adventure games test your cunning, your skill, and your MacGyver-like aptitude in building a flare gun from toothpicks and oily cloth. Virtual Stupidity does none of the above, but instead thrives as a refreshing, contemporary, relaxing exercise in moronic humor."

There you have it-- one of the best adaptations of a famous TV license I've ever come across. Too bad all subsequent Beavis & Butthead games were inferior to this first release, and even got worse as time goes by. The voice acting (done by all original cast members of the show) is simply superb.

Review 2:

Believe it or not this was the first I ever heard of the duo. If you're not familiar with the MTV cartoon, this game is a great initiation into the foul world of 15-year old hornbags. All blokes have been there before, and those of us who haven't, certainly will.

The sole purpose of a 15 year old is to SCORE and be COOL!

This is the basis of this game.

Beavis and Butthead must break out of Highland High School to hang out with local gang member and all-round cool dude Todd to reach their lifelong goal of getting laid. The point-and-click interface puts you in control of Beavis and Butthead, controlling their every move. Ever wanted to Hock-A-Loogie on your principle's head from the roof of the school? Go for it!

Candy stealing ants? FRY-EM, FRY-EM!!

The mini-games are bountiful, and are strangely addictive, especially the ability to record and save your very own Beavis and Butthead Air Guitar riff! As the plot unfolds, Beavis and Butthead find themselves in the thick of it, unwittingly caught between a gang rivalry. They managed to break out of High School, but breaking out of prison is a whole new story!

The rich universe in Virtual Stupidity really sucks you into their world, and if you're not careful, you can be easily distracted from your goal. Nearly everything is clickable, and the vast library of sound bytes means that there is a smutty response to just about everything. On the other hand, if you just skim over the details and try to go straight from point A to point B, you may miss that vital clue that will solve the next puzzle and allow you to advance to the next stage.

The open plan world means you can wander around the town to your heart's content. No two people will play the same. There is quite a bit of strategy involved, as some of the hints can be easy to miss. Something you see earlier in the game may not look like much now, but may prove to be the vital link later.

Compared to today's standards of graphics and gameplay, Virtual Stupidity shows its age.

Even for 1995, the graphics appear pixellated, and the animation can be jerky, but the animated movies used for the cutscenes makes up for the lack of graphical complexity. Beavis and Butthead in Virtual Stupidity is a surprisingly in-depth game, considering it is based of the premise of teenagers trying to score.
Download full game now: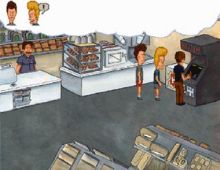 Beavis and Butthead in Virtual Stupidity screenshot
People who downloaded this game have also downloaded:
Ace Ventura, Goblins 3, Alone in the Dark