Game Downloads
You're located in category:
Wings of Fury
Review 1:

Action

World War II. Pacific. The Americans and Japanese are fighting for domination of the seas. You have just been recruited and the days of glory are ahead of You...

One of the best flight games I've ever played. You'll fly the P-38 airplane based on the US aircraft carrier. Your missions are pretty simple but VERY difficult to accomplish. You'll have to destroy all the enemy bases and ships in the vicinity and that is very, very, very, very, very hard to do. It is almost 100% realistic and it might take You a couple of hours to destroy everything. If only those Zeros are not around... The dogfights with Japanese pilots are very tough as well. Complete game is pretty detailed. I mean the game details. For example: to destroy enemy ship You have to drop a torpedo. But...it has to be done from a real low flight. Otherwise torpedo will crash in to the sea and sink. Of course, it is possible that Your torpedo gets destroyed by the enemy gunfire, so You'll have to go back to Your carrier and get another one.

Landing...hardest part in the game. Probably one of the hardest things in the game playing of all times! So...I've told You about all the hard things in the game. The game is BRILLIANT and You simply MUST download it. Wings of Fury is one of the best games ever made!

Review 2:

A great flying-shooting action game, where you fly a WW2 US plane and has to blast the Japan base and planes. You can use gombs, torpedos, rockets, machinegun. But, watch out for your oil and fuel! Very enjoyable game, I recommend!
Download full game now: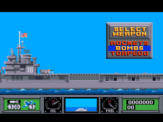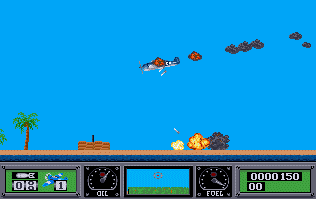 Wings of Fury screenshots
People who downloaded this game have also downloaded:
North & South, Speedball 2: Brutal Deluxe, Wings, Rick Dangerous 2, Wing Commander