Game Downloads
You're located in category:
North & South
Review 1:

Action/strategy game

North & South has been voted as Amiga's best game ever by many game magazines! It features great graphics, sound and interesting gameplay. The story is probably already known to You - command the forces of North or South in the American civil war and defeat Your enemy.

Amiga version is definitely the best. PC and C64 versions lack the graphics as well as adrenaline and the humor that this version is full of. If You're a true Amiga game player than You simply MUST have this one!

Review 2:

The game takes place during the famous war between the North and South. The game offers a hilarious cartoonish theme with many fun animations. (Which look even better in this Amiga version ;))

The game has nice graphics and fitting sounds and offers a strategic aspect as well as you have to place and move armies around, command your armies in a real time action strategy mode and invade forts in "fast-time" action which can be quite confusing.

The game offers various levels and you have to play the game a lot before you can get tired of playing against the highest level. You can of course also play against one of your friends.

Review 3:

North & South - the game we used to play for hours on our Amigas. Well, there IS a PC-Version of it, but it's just not as good as the Amiga-Game. Trust me, you will love this weird mixture of Strategy and Action-Elements. The rules of the game are a bit Risk-like, the Action-Sequences lighten up the game. This one is best played against a human opponent, but playing it against the computer still is a lot of fun.

Review 4:

Presenting you the war of North and South in a funny style. Cute sound effects and music. It's a table strategy game flavoured with platform and strategy war elements. You have to rob the enemy's train, to capture the other's village and to beat the opponent's army. Really cool game!
Download full game now: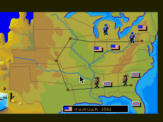 North & South screenshots
People who downloaded this game have also downloaded:
Lemmings, Speedball 2: Brutal Deluxe, Secret of Monkey Island, The, Nuclear War, Moonstone: A Hard Days Knight