Game Downloads
You're located in category:
Nuclear War
Review 1:

You are in charge of this little nation in the middle of the sea. Around you are 4 other nations. You can choose your opponents at the beginning.

Basically you are at nuclear war with EVERYONE! But it isn't a serious war game, it is a funny one :) with human sling shots and cow launchers. It is very fun to play and is quite hard to win. To win the game you must either convert the oppositions population to you side through propoganda. Either that or you just nuke them to death.

There are different sized war heads and you must launch these mega ton war heads on either a missile or a fighter (which can be reused until it has finished it maximum warhead capacity). If you know or are under the impression that you will be attacked you can build defences too. But they last only 1 turn. When you run out of weapons you must build some to use! The game is very fun and addictive.

Review 2:

The basic idea of Nuclear War is to nuke everybody else and to stay alive. Nice graphics of the enemies who look similar to famous politicians, many jokes that happen during gameplay. It's a very funny game, but if you just feel like nuking the whole world, that game was made for you.
Download full game now: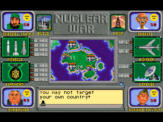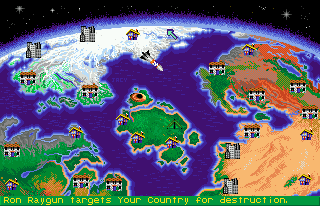 Nuclear War screenshots
People who downloaded this game have also downloaded:
North & South, Lemmings, Syndicate, Pirates! Gold AGA, Megalomania