Game Downloads
You're located in category:
Utopia
Review 1:

This is the best sim city clone I have seen so far... But to call it a clone of Sim City is more degrading than Halifax Town beating Man United!

This game is entirely unique, and could only be called a Sim City clone by the very small elements that are taken from Sim City, which basically only includes building buildings (?). Everything else is unique, at least I think it is. There are no boring roads and transport systems to build, as these are all just done automatically.

Basically, the aim of the game is to achieve absolute Utopia in your colony/city. In order to this you have to ensure that you are performing well in every aspect of the game, which includes making sure you have enough food, oxygen, stores for all of this, places to live, other storage buildings, having enough jobs, making sure you aren't being attacked, defneding against attacks, performing attacks, and eventually conquering your enemy. There are probably loads more stuff to do in this game too, but I can't be arsed typing them all! Discover them for yourself, its much more fun!

The way in which the game is presented is also excellent, as it is from an isometric view point, but there is also the map which allows you to view the planet as though it was an aerial photograph, only showing the main things that you want to see in seperate colours. Well I reckon this game rocks some serious ass, and I can find myself spending hours playing it... or at least I used to do, not much time these days.

An aspect of the game which I found most intriguing is not knowing who I am up against. You have to send out your spies, and the more money you put in, the more information you can find out. The descriptions of each race are very involving and include pictures... for some reason I just love reading about the things that my spies have discovered. There are around about 10 races I think, with each one being more advanced than the last. With each race, there is also a different scenary change, ranging from snowy planets, to firey and volcanic ones!

You definately should try this if you are into city management games, because if this game was re-released now with improved graphics, it would sell as though it was a freebie! Even if everything else remained the same... Anyway, have I ever failed you in pointing out good games? Nope, so download it!

Review 2:

A well designed strategy game, similar to Sim City, but with military actions. Your task is to do the job of a colony administrator. You have to create a whole new nation on a planet.
Download full game now: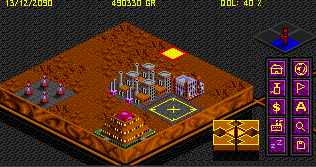 Utopia screenshot
People who downloaded this game have also downloaded:
North & South, Wings of Fury, Populous 2, Pirates! Gold AGA, Wings