Game Downloads
You're located in category:
Ultima 6
This one has been a real revolution back then. The first Ultima using VGA! The whole gameplay has undergone a change. You've now got Icons to navigate. Also ev'rything now is in 3D. The story: In Britannia appear winged Gargoyles out of nowhere and frighten the people to death. They murder ev'ryone, who's standing in their way. The Avatar's told to stop them. In the course of the game, he finds out, why the Gargoyles behave like they do. In their eyes he and his way of living represents the evil, the antichrist, Devil itself! It won't be easy to stop this religious war... It's nice how the story of the game makes a turn in the middle. There is no Black and White like in most RPGs. The world and the characters are full of details, just amazing! There are few games like Ultima VI - even today. In my eyes, this is the best Ultima!

This game set standards! If not already been a legend - the Ultima-series truly became one, when this game was released. I remember trying to talk a friend of mine, who owned a PC into buying this game. I haven't been successful - well, he didn't know, what he missed...
Download full game now: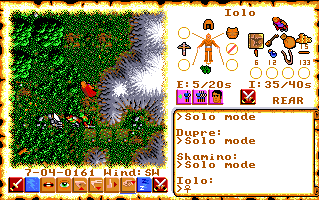 Ultima 6 screenshot
People who downloaded this game have also downloaded:
Ultima 5: Warriors of Destiny, Ultima IV: Quest of The Avatar VGA, Ultima 3: Exodus, Ultima Underworld: The Stygian Abyss, Ultima 4