Game Downloads
You're located in category:
Ports of Call
Review 1:

Ship trading simulation

Trading simulation. Start with $5.000.000 and build up a trading empire by ocean wide trade. Typical office management game with some arcade elements (such as manual port departure, navigation through icebergs...). You can play with a time limit or until one prevails. Used to be my favorite long time ago.

Review 2:

One of my favorite business game. I played this game a lot on my Amiga together with Oil Imperium and both games are from around the dame period. In Ports of Call you have your own shipping company and you will have to earn money by transporting different goods. Once in a while you will have to steer your ship into the city or through icebergs.

So the game contain a good mixture between business decisions and real time action. You can play several human players at a time and the game is really great if you are playing 3-4 human players in a game.
Download full game now: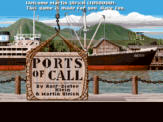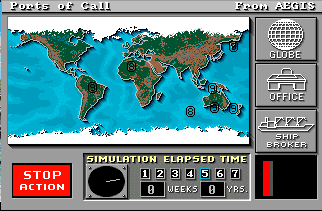 Ports of Call screenshots
People who downloaded this game have also downloaded:
North & South, Populous 2, Defender of the Crown, Lemmings, Pirates!