Game Downloads
You're located in category:
Panza Kick Boxing
Many people consider Panza Kick Boxing as one of the best fighting games ever made for Amiga. They are probably right since the competition didn't really bother much with making something better.

Anyway, what does Panza offer? Aside from fun tournament mode and the option to play a two player game, PKB gives you something you have never seen before - programmable combat moves! There are 55 of them and you can assign 12 to your fighter by a simple customization tool. You can even swap them before a new fight!

The tournament mode asks you to fight various boxers until you reach the final - Panza himself, the champion! After each fight your boxer will improve (or worsen!) his skills, so you gotta be careful and try to stay away from stronger opponents.

Panza is a great game that asks for skill. Not recommended to nervous people!
Download full game now: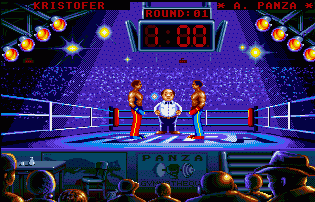 Panza Kick Boxing screenshot
People who downloaded this game have also downloaded:
North & South, Speedball 2: Brutal Deluxe, Lemmings, IK+, Pinball Dreams