Game Downloads
You're located in category:
Monty Python's Flying Circus
If you're a fan of the Monty Python humor then you're gonna love this one. This game is totally crazy. You play the not so smart character from the series (Gumbo or Gumbold, something like that). Anyways your brain seems to have split into 4 parts and decided to run away, so it's up to you to get them back. You do this by playing through the game until you reach "An Arguement", if you do well in these arguements you win back a piece of brain. In the game itself you are armed with fish to shoot at the bad guys, your score goes down the better you do (Yes, the less your score is the better you've played). This is packed with Monty Python humor and I had a jolly good time playing it.
Download full game now: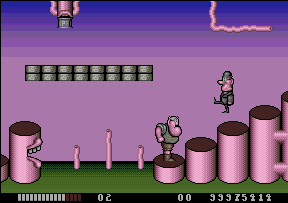 Monty Python's Flying Circus screenshot
People who downloaded this game have also downloaded:
Lemmings, North & South, James Pond 1: Underwater Agent, Moonstone: A Hard Days Knight, Secret of Monkey Island, The