Game Downloads
You're located in category:
James Pond 1: Underwater Agent
Review 1:

You're James Pond, a fish incarnation of the well know 007. Your goal - save the seas from pollution and evil Dr. Maybe. Nice arcade game with cute graphics.

Review 2:

James Pond is a great game, which started a whole series of games to follow, based on this game. This game is pretty unique. You play as underwater agent 'James Pond', which is an obvious take off from the James Bond movies. You have to go on various missions, and rescue various underwater creatures, and stop various things from happening. In order to do this, you can blow bubbles at the bad guys, and then explode them, and then pick up the goodies that fly out of them.

There are very many little games in this one game, and pleanty to do and discover, with each level being alot different from the next. This game is also quite a challenge, and will take you quite a while to complete. The graphics in the game are good for its time, and the sounds are cool too :)

This is a great game, which I recommend to players of many types of genre. I was unsure which category to put it in... As the game is very varied.
Download full game now: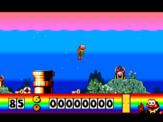 James Pond 1: Underwater Agent screenshot
People who downloaded this game have also downloaded:
James Pond 2: Codename Robocod, James Pond 3, Rainbow Islands, Lemmings 2: The Tribes, Lemmings