Game Downloads
You're located in category:
James Pond 2: Codename Robocod
Review 1:

Evil Dr. Maybe has captured the poor penguins and only Pond, James Pond can save them! A cybernatically enhanced James is back and ready to kick some fish butt!

The graphics are really great, the game is fun and James has some new super powers. I trust you will really enjoy this game and I highly recommend it!

Review 2:

This is the massive sequel to James Pond. This time it is called RoboCod (oh... too many puns!). This game is really really big. There are tons of levels, as well as loads of hidden levels too. So this game will keep you going for ages in order to complete it... and without a save function, it is quite annoying ;)

This is a platformer with a difference. You play a fish, in a robo suit thingy, which can extend for miles and miles and miles an............................ Basically, the game is about jumping around and landing on top of baddies, and splatting them open. You can also get veheicles on some levels, which is pretty cool. These vehicles include cars, aeroplanes and even baths!

There are so many hidden things to be uncovered in this game, and such a wide variety of scenary that you will never really grow tired of it. I always liked this game on my Amiga, and have continued to like it even now when I replay it from time to time :) Truely a timeless game!

Review 3:

Funny game. You are an underwater agent, called James Pond :) You have to swim and capture or destroy the enemies with bubbles. Very funny, primitive graphics and music.
Download full game now: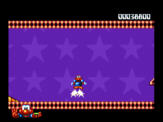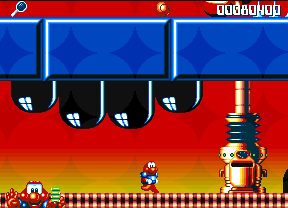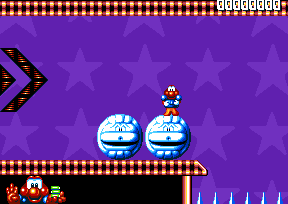 James Pond 2: Codename Robocod screenshots
People who downloaded this game have also downloaded:
James Pond 1: Underwater Agent, James Pond 3, Rainbow Islands, Lemmings, Cannon Fodder