Game Downloads
You're located in category:
Centurion: Defender of Rome
Review 1:

Strategy

Veni, vidi, vici!

Julius Cesar

That's what You have to do - conquer the "Old world". You start with one legion in Rome (whose people are very restless in the beginning). The game offers a lot - battles, diplomacy, entertainment for people (arcade part of the game in which You race chariots or fight gladiators)... Each country You attack is represented by it's historical leader and sometimes You may even make them join You without fight! In the part that covers battle you control everything - starting formation of Your armies, their orders, special orders, retreats... Just be careful not to lose leader or Your troop's morale will drop. Great strategy game.

Review 2:

Defender of Rome. A very nice table strategy game, where you can conquer the whole continent, as the leader of Roman empire! It has fine graphics and sound. Centurion also was released on PC and it was one of the pc gamers' favorite.
Download full game now: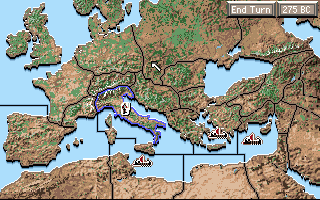 Centurion: Defender of Rome screenshot
People who downloaded this game have also downloaded:
Defender of the Crown, Colonization, Pirates! Gold AGA, North & South, Chaos Engine