Game Downloads
You're located in category:
Chaos Engine
Review 1:

Chaos Engine is a revolutionary shoot em up... Well, not really since it is just a graphically enhanced version of really old 'shoot em up construction set' games. You play as a man, from a choice of 8. Each man has got a different weapon and statistics. You must choose 2 of them actually, and the game ALWAYS has two men playing at once. If you play one player, it is controlled by the AI (computer) or if you play 2 players then the other one is controlled by your friend.

The game is a scrolling shoot 'em up, but it has a difference, because you have to unlock the chaos gate or something in the end, and on your journey to do that, you shoot monsters etc, and then collect money, with which you can buy things after each level. Each level has got around 3 stages I think. To progress to the next stage you need to blow up various pylons, well I don't know what to call them really... They are just big sticks that you blow the cover off and then electric come out of them...

The graphics are not bad either, kinda 3Dish. Not a 3D enviroment, but the characters look 3D with smooth rounding. The scenary isn't too bad either. You look down from above, so most of the time all you can see is the green ground.

I like this game, and I don't like many shoot 'em up's, so I guess that tells you something about this game...

Review 2:

The first Chaos Engine. A legendary action game, which made many lovers to the girl called Amiga :) Amazing graphics, hard gameplay and techno music. The style is a little bit similar to the Alien Breed series.
Download full game now: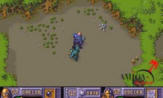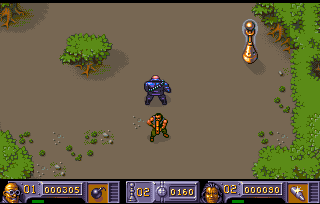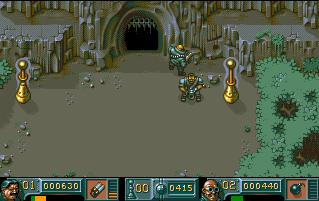 Chaos Engine screenshots
People who downloaded this game have also downloaded:
Chaos Engine 2, Cannon Fodder, Cannon Fodder 2, Speedball 2: Brutal Deluxe, Flashback