Game Downloads
You're located in category:
Liberty or Death
Review 1:

Another strategy game from KOEI which is very similar to KOEI's other strategy games. In Liberty or Death you are in control of either the American or British in the US revolution. Like with the other games from KOIE the graphic interface is really what puts Liberty or Death apart from other strategy games simply it looks so special but still quite easy to use once you have looked at it for a while.

The main changes compared to the earlier KOEI games are that you will have different of your counsellors to ask for further support likes extra wages which you then have to decode on whether you should receive extra money. In my opinion there are a few flaws with this feature though like you are told the expected wage and if you offer a bit more than that you are still told that the soldiers will need more wages in order to be in perfect shape.

Generally the game offers a bit more economically challenges than earlier games and overall I find the game a bit more interesting as well compared to KOEI's earlier games but this is also based on the plot of the game. Still a long way to go to be a really good strategy game in my opinion.

Review 2:

Based on the U.S. Revolution, Liberty or Death puts a new spin on KOEI's main game engine in various novel ways: to raise popular support, "give food to the populace" is replaced by "write a gazette"; soldiers are now allowed "furlough" (i. e. shore leave) to bolster their morale, and so on. Although most commands will be familiar to longtime KOEI fans, the addition of budget allocation and requests for support from political figures add a welcome level of challenge.
Download full game now: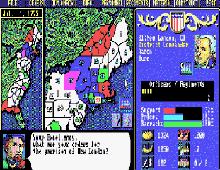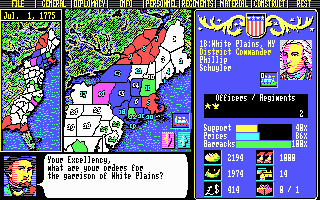 Liberty or Death screenshots
People who downloaded this game have also downloaded:
Lords of The Realm 2, Gengkhis Khan 2, Revolution '76, P.T.O. II, Sons of Liberty