Game Downloads
You're located in category:
Jones in the Fast Lane
"Jones in the Fast Lane" was released in 1991, even though it is an old game, it's an excellent game. I used to play it years ago as a kid and I loved every moment of it. It's a simple game of life, where you find work, earn money, improve your living conditions (moving out of the low cost housing and into better apartments) and get yourself better clothes which you need in order to get certain jobs, of course (can't turn up to work in casual clothes if you're in a high up position!).

"Jones in the Fast Lane" is a game similar to "The Sims" in the way that you guide a character through their life. Your decisions impact whether they are successful or not. However, "Jones in the Fast Lane" is a much simpler game than "The Sims", which I think is a lot better. It's much easier to play and doesn't take a great deal of time to play (compared to "The Sims" where you must build your house and create your character and such). You can play "Jones in the Fast Lane" over many small periods of playing time, or just play it for hours and still get the same enjoyment.

The game works in turns, in which you must work out how to best use each day. You use up each time in your turn by working, studying...etc. You get more money by working and more job opportunities by studying.

One great thing about "Jones in the Fast Lane" is that even younger children can play it (as I did), the game isn't very complicated and plays just like a board game (though it is more interactive).

There are many different places to explore and from memory I think that you can work in almost all places on the board. This adds a great sense of realism I think, being able to work at the place which you go to shop and such. If I'm correct I think you can even become a teacher and work at the place where you studied!

One thing I didn't like about the game (which isn't such a big deal) is the lack of customisation. You can't really make your own character; just choose from a list of characters. This isn't a big deal mainly because in the end it doesn't matter, the game is still just as fun. It could be a good game to teach kids how to save money, work towards goals and such. Or just a great game to play to have a great time! Enjoy!
Download full game now: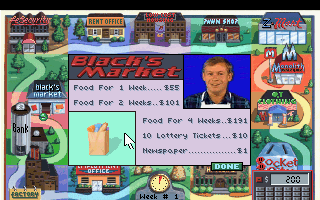 Jones in the Fast Lane screenshot
People who downloaded this game have also downloaded:
Monopoly Tycoon, Where in The World is Carmen Sandiego? Deluxe Edition, Sim Ant