Game Downloads
You're located in category:
Gloriana (a.k.a. Elisabeth I)
Gloriana is another excellent old game from Ascaron, one of the most underrated strategy game companies today. Originally released in Germany as Elisabeth I, Gloriana is a historical trading simulation similar to Holistic Design's classic Machiavelli The Prince. The game is set in 1550 when Elisabeth I became Queen of England. Your objective in the game is straightforward: as owner of a small trading company, work your way up the social and political ladder by gaining wealth and influence to become Elisabeth's counselor. You have only until 1588, when the Spanish Armada attacks England, to accomplish this objective.

The gameplay in Gloriana will be familiar to anyone who has played a historical trading games, e.g. Ascaron's own The Patrician (set in Germany) or Machiavelli The Prince (set in Renaissance Italy). The difference here is that Gloriana is set in 16th century England, and the designers successfully used this fact to set the game apart from other similar titles. Gloriana offers many "generic" features of a trading games such as trading commodities between different ports (using the timeless "buy low, sell high" concept), and buying different kinds of ships. But the game also offers many other options that are true to that era. For example, you can choose to live the life of a pirate, or bid for luxury items in city-wide auctions held for merchants. The graphics are cartoony, but attractive, and the underlying economic model is robust and reasonably realistic.

Overall, Gloriana is one of the best but least known economic simulations ever made. If you like The Patrician or other trading games, you will definitely enjoy this old game. It is fun, entertaining, and historically accurate enough to please historians everywhere.
Download full game now: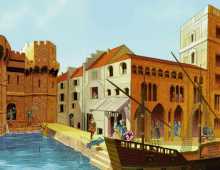 Gloriana (a.k.a. Elisabeth I) screenshot
People who downloaded this game have also downloaded:
Machiavelli The Prince (a.k.a. Merchant Prince), Celtic Tales: Balor of Evil Eye, Imperialism 2: The Age of Exploration, Sea Legends, Great Battles: Collector's Edition, The