Game Downloads
You're located in category:
Dinopark Tycoon
Review 1:

Good at Sim City? Seen Jurassic Park? Then you will have a good chance doing well in Dinopark Tycoon. Your goal is to build up a huge dinosaur park. Of course you have to start out small with only a limited amount of cash. The first thing you have to do is to buy a suitable ground. Next you have to decide on what kind of fence you want around the ground like regular fences, electricity powered fences etc. Next you have to buy the actual dinosaur and the food it will need. And of course you need to hire people that will take care of your park.

Everything is done in a great and easy-to-use interface where you can always get help. Once you have bought your first dinosaur you can go to the actual park and see it. It's fairly detailed and shows exactly what you have selected as well as the visitors walking around in the park. Small things like that you hav to buy the correct food for the dinosaurs are included as well so it doesn't help you much if you buy meat to a dinosaur that only eat plants.

As mentioned Dinopark Tycoon has a nice interface and the graphics are fairly good as well which makes the game easy to play since you can easily see the different between the dinosaurs, buildings etc. It's a great game and if you are into the building games you won't be disappointed at all. Several funny things are included as well. A well done game.

Review 2:

Ever seen Jurassic Park? So, this is the game to the movie. You run a Dino-Park and that's not so easy. It's not just buying some dinosaurs and that's it. You gotta hire the right staff, if you think you could save money on maintenance you'll soon see: you can't, one of your dinos may escape if the fences are not in the right shape. You've also gotta care 'bout the meals for your dinosaurs - if they want meat, you can't feed them vegetables. All in all a nice little game, no Smash-Hit, but still worth a try if you like management-games - this one'll sure give you a grin or two.

Review 3:

One of the most original "business" games ever made, DinoPark Tycoon is a great concoction of education and strategy. Fans of Jurassic Park take note, here is the game you've been waiting for :) Construct and supervise your own dinosaur theme park, from the starting funds of $5,000 (yes, those modern dinos are a bit cheap).

Although the box claims "Ages 8 and up," most kids younger than ages 12 or so will probably find DinoPark Tycoon too difficult and daunting, because there are many variables to keep track of, and managing the park's finances is not easy. You are in charge of borrowing money, buying dinosaurs, building fences to keep them in, hiring tour guides, building parking lots, setting admission fees, and many more. There are many strategies at your disposal to increase revenues, such as adding dinosaurs, selling dinosaur babies, opening concession stands, advertising the park, and raising ticket prices. The game's educational aspect is very strong, as it provides many kinds of information to aid decision making, including a dinosaur fact guide, daily records, quarterly financial reports, and a calendar (with months that tick by). Players will learn graphing skills, estimation, supply and demand, and money management as they track profits. Not to mention a LOT of dinosaur anecdotes. The game includes may innovative ideas, such as the ability to buy seeds so you can grow your own plant life for the herbivores. Every facet of running a DinoPark is factored in, including different prices in meat or plants that you must buy to feed park denizens, different kinds of fences, etc. Knowledge of each dinosaur's characteristics is important to success. For instance, you have to know how strong and aggressive of a dinosaur you have to determine if they need an electrified fence. Fail to contain a T-Rex, and you'll have mass panic on your hands.

As a business sim, DinoPark Tycoon is very enjoyable as a "light," humorous sim that is quite addictive. As an edutainment title, the game offers a lot of crucial dinosaur-related information, and kids will learn basic skills of economic management in a fun environment. Overall, this is one of MECC's best releases, and a must-have for practically everyone. Highly recommended.

Review 4:

A good attempt to make a very original tycoon. It inlcudes a lot of the ideas of new tycoon games, like zoo tycoon.

You become the new owner of a park, but not a normal attraction park or a normal zoo. No, it's a zoo with only dino's. You get $5000.- and to be honest, that's not enough. Actually it's way too difficult to manage with this that little money. Well, hire staff, rent spots to put you dino's in, place fences, buy dino's and much more. With a little bit practice, you could be a real tycoon in this game.

Graphics are ok, Sounds are not overwhelming, but allright, gameplay is a bit difficult and the addiction level differs every time you play this game, really. But the addiction level is pretty good though.

Review 5:

Oh my god, i can't stand it - A Dinopark Tycoon Download! I used to play this game when I was like 7. This game is awesome, we would always fight over who got to play the game. This is still by far one of the greatest business games for children and even older people as well. Its easy to learn to play the game. And in no time you will have a park full of cool Dino's.

The Lands effect what kind of dino's you get, at least I think, I can't remember that much. I just remember always doing the Plans cause I always thought that was the best, but it was also the most expensive. I do remember the desert was cheaper cause the dino's were smaller and you didn't have to feed them as much, and the land itself didn't cost as much. Oh yea, and if your dino's are not happy they will run away and all your money will be lost fom them, so always try to keep them happy and don't forget the fencing, that will also stop them from running.

You get to pick from all three types of dino's, and they are herbivores, carnivores or omnivores. Download Dinopark, it's good at teaching kids about all the types of dino's, like what they eat and where they live.

Oh yeah, and your dino's can get sick so you have to get vets to keep the healthy and they do cost a lot.

I myself just loved watching all the dino's just walk around and do the things they do in the game. I also liked to watch all the people pay me to get in and look at my dino's. And I think they was some kind of stands to put up so people can eat food and drink soda while they were there. I actually think this game today is still better than rollercoaster tycoon and even Sims theampark. I mean you don't have rides and stuff but its just the thought about having dino's in your park. Its crazy and awesome. Dinopark Tycoon and Oregon Trail are my 2 favorite classic games for the PC that is. I would love to own a park that had dino's.

You get to learn tools and equipment to help you run the park better. You have to get people to work for you to help keep the park clean for people to come into your dino park. But I don't think they had guards like sims theampark to keep the park in check. So don't waste your time and get your Dino Park download now, the prices for baby T-Rex are extremely low this year!
Download full game now: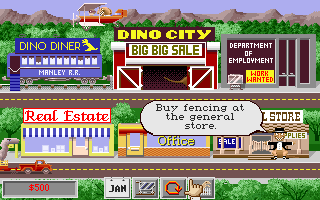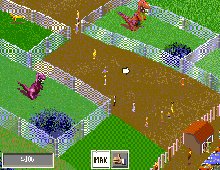 Dinopark Tycoon screenshots
People who downloaded this game have also downloaded:
Oregon Trail Deluxe, Pizza Tycoon, Monopoly Tycoon, Sim Ant, Sim City 2000