Game Downloads
You're located in category:
Crime Fighter
Review 1:

Definitely the best gangster game I've ever played and one of the best shareware games ever, Crime Fighter is a game for up to 4 players where the objective is to commit as many crimes as possible to seize control of the underworld. Depending on the type of building you enter, you can raid the stores, steal cars, kidnap children, raid banks, attack mail trains, etc. As you gain in notoriety you can recruit gangsters and equip them with guns for bigger schemes. Extremely addictive and thoroughly engaging, this game is a must play for all strategy fans. Formerly shareware, the author Peter Steffen has released the game as freeware in 2001, so there is no longer any excuse not to try out this excellent old game.

Review 2:

In contrast to many other games and unlike the name of the game announces, you don't fight against crimes, but you try to commit as many of them as possible. For example you can play pickpocket, raid supermarkets and hotels, steal cars, raid banks, attack mail trains, and so on.

Since you are in a big town you have many different opportunities for this. As soon as you have a high standing in the criminal underworld, you are also able to sign on gangsters that join your gang. These gangsters can then be trained or equipped with weapons (for example with pistols or machine guns). Your aim is to seize the power in the underworld. But the way is very dangerous, especially since the other players try exactly the same. And also the police are hard on your heels.

The plot in the game is very interesting and very unique but the game seems very difficult and therefore it may turn of new players to this game simply because it takes too long to really learn. The game does feature extensive guides to the different game modes and this is a big help. It also helps that you can't really die no matter how many times you are shot - you can only get arrested. This game can be very addicting once you really get into the game.
Download full game now: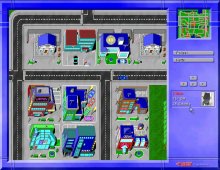 Crime Fighter screenshot
People who downloaded this game have also downloaded:
To Serve and To Protect, Settlers II Gold Edition, The, Magic: The Gathering, Evolution: The Game of Intelligent Life, Constructor