Game Downloads
You're located in category:
Conquest of Japan (a.k.a. Samurai: Way of The Warrior)
Conquest of Japan is a pseudo-historical game set in 16th century Japan. As a Daimyo (i.e. ruler) of a state, your goal is to conquer your opponenent's state to claim ownership of the entire island of Honshu.

Although the exotic subject matter is commendable, Conquest of Japan unfortunately suffers from a very cumbersome user interface that makes even simple commands such as moving your troops a multi-step process. Worse yet, the cities' starting positions for each game are random, thereby negating any historical value that can be gleaned. This also means that the game can be either almost impossible to win, or a cakewalk depending on your luck at the start. Despite some pretense at city management (i.e. you gain koku (Japanese currency) to spend on units from city growth), the game is not much more than a showcase of Impressions "Micro Miniature" tactical combat system, which is given a Japanese disguise. Although the units look authentic on the surface, they are nothing more than new names of typical infantry-spearman-archers types commonly seen in dozens of other wargames. You can select Japanese formations, but the AI is generally so poor that it hardly makes a difference what you choose. Overall, anyone looking for an authentic historical Japanese game would do well to play Sword of The Samurai or even Electronic Arts' recent Shogun: Total War instead, and leave this conquest alone.
Download full game now: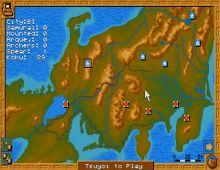 Conquest of Japan (a.k.a. Samurai: Way of The Warrior) screenshot
People who downloaded this game have also downloaded:
Caesar, Nobunaga's Ambition 2, Sim Ant, Dungeons & Dragons: Warriors of the Eternal Sun