Game Downloads
You're located in category:
Breaking Away
Breaking Away is a faithful freeware QBASIC version of a highly underrated board game of the same name that is still being published by Fiendish Games. The game is a dice-free cycling game for up to 8 players, each of whom controls a team of four cyclists. As in real-life bicycle races, you have to use your energy efficiently by sitting in the pack and striking out at the right times.

Each turn, you can play 3 or 4 movement cards to move your cyclist a corresponding distance. At the end of the round, when each cyclist has moved, all are given a replacement card, the value of which depends on their new position in the race. The rule which governs the value of the replacement cards is at the heart of the system and dictates the tactics. A breakaway leader is dealt with by a special rule, but for the others the card received is worth 3 plus the number of riders ahead of them in the same section of the pack, with the count starting again whenever there is a break in the line. So that is how to build up the value of your hand: hang around the back, but avoid being caught by mini breaks.

Three things complicate matters and make the game more challenging thant it looks: the first is, of course, that the others are trying to do the same; the second is that you are limited in your choices by the cards you hold, making forward planning a necessity; and the third is that at the one third and two thirds distance there are bonus sprints. The first eight riders in each of these pick up points and these, together with the double points on offer at the finish, are what determines victory: the team with the most points at the end of the race wins.

If you enjoy "light" board games that are simple to learn but hard to master, Breaking Away is well worth your time. With elegant rules, it successfully captures the feel and the strategy of real-life road cycling. Highly recommended, and check out the actual board game if you are a board game fan as well.
Download full game now: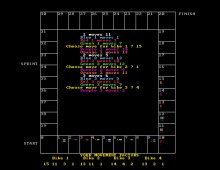 Breaking Away screenshot
People who downloaded this game have also downloaded:
Inucla No Classical, Armada 2525: Deluxe Edition, Bazaar, Grandest Fleet 2, The, Fantasy General