Game Downloads
You're located in category:
Super Sumo Wrestling 2002
Super Sumo Wrestling 2002 is a great freeware QBasic game about sumo wrestling - a sport not usually seen in games (non-Japanese ones, anyway). The game sports nice "SD" (shrunken anime characters) graphics, fun gameplay, and a great sense of humor despite some typos.

Similar to arcade fighting games, Super Sumo Wrestling 2002 offers a variety of gameplay modes: tournament, exhibition, demo, and VS. In tournament mode, you first create your own sumo wrestler by setting speed, weight, strength, and rage ratings. The tournament consists of 3 big "rounds," each of which has 15 matches. At the end of each round after you beat 15 wrestlers plus the "Yokozuna" (champion), you will gain access to a new, secret character to use in the next round. The controls are easy to learn (you can use either keyboard or joystick), mostly because the action involves simply moving the wrestler around and repeatedly pressing the attack button.

One of the things that make Super Sumo Wrestling 2002 an enjoyable game is the different personalities of wrestlers you will face. You will hear taunts and cries of anguish as you play. The fact that each wrestler has different attributes also adds a nice layer of strategy, albeit minimal, to gameplay. The game is also a lot of fun in 2-player simultaneous mode, if you don't mind the match being over very quickly.

Overall, Super Sumo Wrestling 2002 is a polished, immensely entertaining, and even unique freeware gem that is well worth your time, whether or not you are familiar with Japan's national sport.
Download full game now: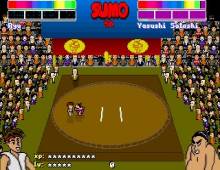 Super Sumo Wrestling 2002 screenshot
People who downloaded this game have also downloaded:
Syndicate Wars, Oregon Trail Deluxe, Waterslide Island, Super Dodgeball, Shark! Hunting the Great White