Game Downloads
You're located in category:
Super Ski 2
One of the most underrated sports games for the PC, Microids' Super Ski 2 is a solid skiing game that offers a good variety of skiing events, graphics, and user interface. The game is similar to Accolade's famous Winter Challenge in many aspects: you can practice in any event before the tournament, compete solo against the computer or friends.

In contrast to Winter Challenge, each event in Super Ski 2 takes place at different venues around the world, from the Alps to US mountains. This doesn't have any impact on gameplay, though, except for graphics that try to convey distinctive features of each location—a nice touch. Player animations are not as smooth as Accolade's game, but they are decent, and the controls are easy to learn. I find the game much more difficult than Winter Challenge. Perhaps this is because you view the action from third person perspective instead of first person, so judging the distance is trickier. Also, there are more obstacles and curvy paths in most events, so fast reflexes are required. Overall, I find Super Ski 2 a solid winter sport game that fans should check out. It's certainly an old game, and ideal for anyone who wants a more challenging game than Winter Challenge, although lesser-quality graphics and sounds make it an inferior game. Recommended.
Download full game now: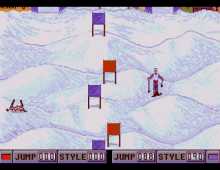 Super Ski 2 screenshot
People who downloaded this game have also downloaded:
Ancient Art of War, The, Super Ski 3, Super Ski, Stunt Driver, Super Ski Pro