Game Downloads
You're located in category:
Stunt Driver
Stunt Driver is an oldie stunt car simulation by Spectrum Holobyte featuring a 1966 Shelby Mustang ready for you to drive to perfection. The game is very similar to Distinctive Software's Stunts both in game design and premise, although not nearly as popular. There are various tracks to race on, ranging from a oval training course to more tricky stunt courses with loopings, bridge jumps and so on.

As in Stunts, the game also offers a course editor that allows you to design your own challenges. On every course you will have to qualify by beating a set time in training mode, enabling you then to enter a race with up to 3 computer-controlled opponents. But then there's also the option to link-up another computer to play against a friend (modem, cable, or network), something not found in the more popular Stunts. The graphics are okay for its time as are the controls, but one of the best things in technical terms is the excellent sound even through the good old PC speaker. During the race, there are various views to quickly look what's going on behind or left of you and the VCR-like recorder enables you to review your race later on.

Overall, Stunt Driver is a fun game that definitely deserves as much attention as better-known and better-sold Stunts (although it is admittedly inferior). Unfortunately, the game has a lot of problems on modern computers. A slow-down util is a must for anything faster than a 486, as the in-game clock and the computer opponents won't work if your computer is too fast. Highly recommended, especially in multiplayer mode.
Download full game now: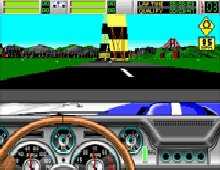 Stunt Driver screenshot
People who downloaded this game have also downloaded:
Stunts, Stunt Car Racer, SuperKarts, WWF Wrestlemania: The Arcade Game, Street Rod 2