Game Downloads
You're located in category:
Super Football Sunday (a.k.a. Super Sunday)
An early pioneer in the genre of American football that was not nearly half as good as NFL Challenge. Ostentatiously based on Avalon Hill's best-selling football boardgame, Super Bowl Sunday is much more simplistic than the board game classic, perhaps partly because the technology in 1985 was inadequate to transfer the board game's complexities to the PC screen. But the game pales beside classics like NFL Challenge that were released around the same time. Here, planning doesn't seem to alter the outcome of the matches, and the prospects of watching tiny players moving randomly on the screen becomes less appealing with each play. Football fans would do well to stay clear of this game and play NFL Challenger or newer simulations like Tom Landry Strategy Football instead -- or track down the long out-of-print original boardgame.
Download full game now: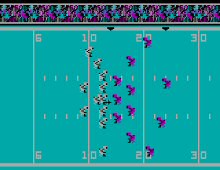 Super Football Sunday (a.k.a. Super Sunday) screenshot
People who downloaded this game have also downloaded:
Sport of Kings (a.k.a. Omni-play Horse Racing), Earl Weaver Baseball 2, TV Sports Football, NFL Pro League Football, Ancient Art of War, The