Game Downloads
You're located in category:
Slam 'n Jam
Slam 'n Jam is a decent, little-known PC port of the 3DO arcade-style basketball game, which was in turn unofficially based on Konami's classic arcade game Run & Gun (the similarities between the two games are obvious, even if Crystal Dynamics never acknowledge the Konami game). To make the game a bit more attractive to PC gamers, Crystal Dynamics has included two of the most famous players of all time - Ervin "Magic" Johnson and Kareem Abdul Jabbar. Unfortunately, that does little to elevate the game above the mediocre status.

The game itself is not close to the arcade it "borrowed" [read: stole] its ideas from, but at least the 3D graphics are decent if you care about this sort of thing. You control the action from the short end of the court. The best feature in Run & Gun was the cocky gameplay with passes behind the back, alley oops and long passes to a player high up in the court. All of that is included, but with jerkier gameplay and a somewhat unpolished look. Games like SEGA's NBA Action '98 stand tall in comparison.

Overall, If you are a basketball fan, Slam 'n Jam is worth a look. It doesn't fare well when compared with the best in the genre, however, and is quite difficult to get to work on modern computers. EA Sports' NBA series and SEGA's NBA Action '98 are both much better than this old game.
Download full game now: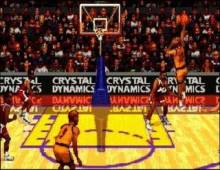 Slam 'n Jam screenshot
People who downloaded this game have also downloaded:
SuperKarts, TV Sports: Basketball, NBA Jam Extreme, Dream Team: 3 on 3 Challenge, Fatal Fury 3