Game Downloads
You're located in category:
Sharkey's 3D Pool
Review 1:

Back when I first laid hand on this game I had no idea what pool is actually. I kinda liked what I saw and shortly after I became pretty good at it. I mean the computer game of course. Later I played the real thing and found out that I am actually talented...

Sharkey's 3D Pool is a decent billiard game. You can create your own player and enter some tournaments to win big bucks. Beware, the game is not as easy as it may seem, but in the same time it's not that hard. Once you get used to it you will be the uncrowned champion of the world!

Review 2:

A fairly good billard-sim. Many options, you can view the table in 3D as well as in birdview (from above). Various kinds of billard-games implemented. You can play against some computer-played opponents of different strength. You play about money, so you've got an account - nice idea. The simulation-aspect itself is welldone - there are more realistic simulations of a billard-game possible, but this one is enough to have some fun with. Overall an ok game with some nice features.

Review 3:

Sharkey's 3D Pool is an excellent pool game that introduces 3D perspective long before Celeris' Virtual Pool. The game is fast, easy to learn, and a lot of fun. You can play against the computers with different skills (including tournaments), another human player, or see if you can replicate trick shots performed by real pros. Traditional top-down view is available in addition to the very attractive 3D view that lets you view the action from any angle.

The game offers two types of standard pool games: 8-ball and 9-ball, either of which can be played in a standard "ladder"-style tournament in which you compete for money prizes. The only thing that is missing from the game is the appearance of the cue stick itself-- you only see an outline of it on the screen, since you must select the point of the ball to hit, direction, force, and spin from the top menu bar. In many ways, Celeris' Virtual Pool is a logical evolution of Sharkey's 3D Pool -- but this predecessor already packs more than enough punch to keep pool fans entertained for hours. I found the trick shots section especially fun, and challenging. Definitely a breakthrough as far as pool games go, and a must-have for fans of the sport.
Download full game now: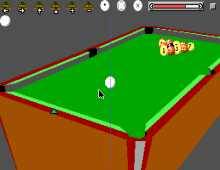 Sharkey's 3D Pool screenshot
People who downloaded this game have also downloaded:
California Games 2, Tennis Cup II, Civilization