Game Downloads
You're located in category:
Re-Volt
In the world of toy publishing, few toys can match the speed of Toy-Volt's success with its line of remote-controlled (R/C) cars. Acclaim brought the fun of R/C racing to Re-Volt, which boasts great gameplay and high replayability despite some AI quirks. The game lets you control over 28 Toy-Volt's R/C cars (plus 5 secret ones) and race them on 13 mostly inventive tracks.

To begin with, the level design in Re-Volt is fantastic, featuring realism rarely seen before in this genre. My favorite level, 'Toys in the Hood,' has you racing around the streets, avoiding parked cars, taking shortcuts through open doors and across sidewalks. Other tracks allow you to race inside a department store, a famous cruise liner, and a wild west town. Most tracks have two different routes built in, and winning any of the four Championships allows you to unlock new tracks and cars and replay the tracks in both reverse and mirror modes. There is even a "stunt arena" that is great for practice, since it requires more and more dexterity to reach each of the twenty pickups that are placed at the top of various jumps, loops, and half-pipes. And when you get bored of the included tracks, you can dabble with the included track editor to make your own.

The selection of cars is excellent, boasting cars that are different in more ways than just their looks. The cars are split into two categories (Electric, and Glow) and are then divided between Rookie, Amateur, Advanced, Semi-Pro, and Pro, based mainly on speed. Each car has its own weight, acceleration, and top speed. Although you can pick up weapons and power-ups on the tracks similar to arcade games, Re-Volt is much more realistic than arcade racers. The cars behave very realistically, and the physics engine is excellent. But if you prefer arcade-style racing over realism, you can change the car behavior mode from "Simulation" to the very forgiving "Junior RC."

With excellent graphics, great gameplay, and a longevity that is much higher than most racing games, Re-Volt is a fun game that will please racers of all ages. Although the computer AI can use some help (I pass computer-controlled cars that become amusingly "stuck" in scenery on more than one occasion), the game offers enough beauty and brains to satisfy everyone - including a few multiplayer modes. Highly recommended!
Download full game now: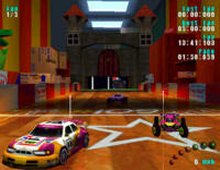 Re-Volt screenshot
People who downloaded this game have also downloaded:
Rollcage, Micro Machines V3, System Shock 2, Road Rash, Moto Racer