Game Downloads
You're located in category:
Playmaker Football
Playmaker Football is little-known PC version of legendary football simulation for the Macintosh. One of the best American football management sims ever made, the game lets you decide a myriad of options, from "who to draft" on down to "who will be the holder on extra point tries?"

Playmaker Football unites three distinct modules into one seamless game program. First, you'll go through the Team Draft to "build" the team you need to best run your styles of offense and defense. Each player on the 30-man active roster (15 offense and 15 defense) has five ability categories: Speed, Strength, Agility, Intelligence, and Discipline. Each player can have up to 100 points assigned to each of the five categories. As a coach, you'll need to make sure that you have the personnel you need, whether that's a bone-crushing fullback for your power running game or an all-world quarterback for your wide open pass attack.

Next you'll enter the true heart of the program -- the Chalkboard Editor. Here you will build your playbooks, designing offensive, defensive, and special teams plays. Each playbook can have hundreds of plays, allowing you to prepare for any contingency. You can try out each play on the Practice Field option, so you can check the timing on pass plays. Blocking schemes, coverage assignments, pass routes, blitz angles . . . almost every coaching option imaginable is included in the game.

Once you have your playbook ready, it's time to play the game. Here you can let the computer call your game plan for you (based upon detailed Artificial Intelligence settings that you build into the playbook), or take charge and manually make all the calls in real time. Overall, Playmaker Football is an excellent, very realistic and detailed simulation the sport. It may not be as strong as XOR's venerable NFL Challenge in terms of computer intelligence, but it does come very close. Highly recommended.
Download full game now: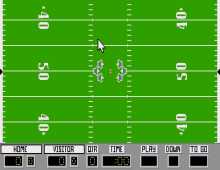 Playmaker Football screenshot
People who downloaded this game have also downloaded:
Hardball V Enhanced (a.k.a. Hardball 5 Enhanced), All-American College Football, 4th and Inches, Front Page Sports: Football Pro '95, NFL Challenge