Game Downloads
You're located in category:
Out of the Park Baseball 2
As easy as it is to make a decent baseball simulation, making a great one requires that little touch of insight that baseball is a great game where great things happen. Out of the Park Baseball 2 has that insight, and this makes the game a triumph.

Out of the Park Baseball has been the sim of choice for many baseball fans for a number of reasons. The interface is amazingly clear, which is a relief. Baseball is a simple game that can be easily made complicated by giving the sim-manager too many choices. OOTP2 recognizes that most choices in baseball are made by the players, not by the coaches. Aside from lineups, defensive set-ups and the decision to advance the runners the in game manager can sit-back and watch his team perform. Those who prefer a hands-off style and want to focus on general team management can trust the computer manager to make sensible choices within parameters set on the lineup screen.

At heart, this is a management sim, and this part is also done well. Teams must consider market size, development of prospects, and the sad possibility that your high-priced first baseman may have to go so you can free salary for a new pitcher. The AI makes smart choices and it is heartening to see a game that has teams in a pennant race approach last place clubs for the missing piece in their run at the title. The madness of the trading deadline is faithfully represented. The free-agent market is simplified, as is the minor league system, though no so simplified that its unconvincing.

Players develop at a realistic rate, reflecting the sophisticated statistical engine underneath. Apparently similar to Bill James' Player Projection system, most players steadily improve into their late twenties before the gradual slide downhill. However, this depends on playing time, innate talent, injuries and stadium effects.

The league included with OOTP2 is based on the 1999 major league season, with faithful statistical reproductions though names changed for licensing reasons. If you prefer greater historical accuracy, you can purchase Sean Lahmann's baseball archive and use its database as a source for the teams of the past.

A word of warning - the small download size is a little deceiving. The game saves all boxscores, so certain folders can quickly grow to thirty or fifty megabytes. This title is steadily improving with each version. OOTP2 is almost perfect as it is. If you want a true baseball simulation, this is it.
Download full game now: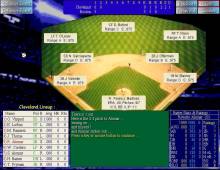 Out of the Park Baseball 2 screenshot
People who downloaded this game have also downloaded:
Hardball V Enhanced (a.k.a. Hardball 5 Enhanced), Earl Weaver Baseball 2, Micro League Baseball 4, Oldtime Baseball, RBI Baseball 2