Game Downloads
You're located in category:
Mike Ditka Ultimate Football
Mike Ditka Ultimate Football is a decent (American) football simulation, with the usual different play-modes such as single matches, play-offs and complete seasons. You also have the option to practice parts of the game, and there's a tool to modify existing leagues or to create new ones. What makes Mike Ditka stand out from the crowd is the addition of digitized umpire moves, and fluid player animations. Despite the name implies, though, this isn't an in-depth simulation of the sport-- but a very good action-packed game similar to John Madden Football and Joe Montana Football. Worth a look if you are enjoy arcade-style play, not too much statistics, and a very easy game in which even a novice can score consecutive wins in no time flat.

Note: Here is an interesting tactic you can use in the game to achieve ludicrously easy touchdowns: Pick the team with the fastest quarterback or design your own team and give the quarterback a speed of 99. Choose a long passing play such as Hail Mary or SE Fly. Now set the play in motion and outrun the defence to the sideline, behind the line of scrimmage, and then run forward. Go just beyond the scrimmage line. This draws the deep defence towards your quarterback and your selected wide receiver should be 40 yards in the clear down field just waiting for you to unleash a huge pass. To stop your opponents scoring a conversion, call a time out just before the kick. It's that easy.
Download full game now: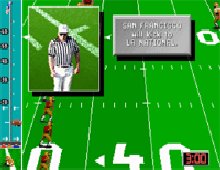 Mike Ditka Ultimate Football screenshot
People who downloaded this game have also downloaded:
Front Page Sports: Football Pro '95, Hardball V Enhanced (a.k.a. Hardball 5 Enhanced), John Madden Football II, TV Sports Football, Monday Night Football