Game Downloads
You're located in category:
Monday Night Football
Monday Night Football is a fun action-oriented football game from Data East that sports excellent VGA graphics, sounds (although they won't work in most new computers), and good controls. Gameplay is fast and simple: select a team you want to control, and direct the action in exhibition or tournament (which is simply a string of 10 exhibition games played in sequence).

Monday Night Football was clearly not designed for diehard football fans who want a lot of managerial control or realism in their games. Here, the playbook is limited to only three strategies, for both offense and defense, and there is no play statistics whatsoever. Each player looks just like any other, and for all intent and purposes, all players are identical. Major football rules are implemented here, though, and there is some good commentary even if most comments are "canned." One of the best features of this game is that up to 10 players can compete in the tournament mode, each controlling a different team. This makes Monday Night Football a blast to play with friends, although only two (duh) can play at a time. For anyone looking for a fast "beer and pretzel" action-packed football game, this is a great choice, although its over-simplification makes it much inferior to Cinemaware's classic TV Sport Football. Fans of realistic football simulations are well advised to ignore Monday Night Football and play Tom Landry Strategy Football instead.
Download full game now: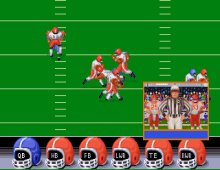 Monday Night Football screenshot
People who downloaded this game have also downloaded:
TV Sports Football, Micro League Football 2, NFL Football, Front Page Sports: Football Pro '95, John Madden Football II