Game Downloads
You're located in category:
Mad Trax
Mad Trax is a decent space racing game that unfortunately brings little innovation to the crowded genre. Sharky Extreme's review explains quite well why this is merely an average game:

"The idea for the game is simple. As in most racers, you've got a series of different vehicles at your disposal each with it's own unique characteristics. You've got a few opponents to race against (be they computer controlled or a friend in split screen mode, sadly there's no network support) and a host of tracks for you to race around on. First to cross the finish line wins. In addition to just racing as we mentioned there's also the odd power-up or two for you to pickup along the way. There is the standard stuff like speed boost (nitro if you will), rockets to fire at your opponents and shields. The physics for the cars are pretty OK. They actually seem to handle pretty realistically for this type of game, still though they are nowhere near actually driving (thank god).

All in all there are 10 tracks for you to "explore" with varying themes. There are citys, deserts and so on (nothing really special in other words), but re enough tracks to keep you going for a while. Sadly though numbers aren't everything. The actual design of the tracks isn't that exiting. In fact, you couldn't care less as no track has anything really unique or challenging. You can actually just put the pedal to the metal and never even think about breaking in this game, that's how simple an unchallenging the tracks are... can you say BORING? The cars aren't all too fun either, there are a total of eight models to choose from with different specs that can be easily configured to suite your needs a little better via three different abilities. However regardless of which vehicle you choose nothing much changes, they look pretty similar, handle pretty similar and so on.

Visually Mad Trax excels and positions itself as one of the finer looking titles in the genre. Being a game of the 3D accelerated sort, Mad Trax requires either a Direct X 5 compliant board or a 3Dfx board with GLIDE drivers to function properly, requirements that aren't too hard to meet these days. The game has been designed to run pretty well on a low-end system and satisfies with a Pentium 166, 32Mb RAM and a Voodoo 1 but, as always, a faster rig is recommended.

Mad Trax is a pretty average racer but with above average visuals, while we won't be seeing it on any best seller lists or being heralded as the game of the year, it is a nice way to spend a few hours. However there are better choices out there, Motorhead and Rollcage both come to mind. Still, we have to give credit to the people at Rayland that designed and coded Mad Trax. Seeing as they are only a team of 6 and no doubt have been hard at work with this title, it is a very nice first try and with graphics like this... well, let's just say the future looks bright."
Download full game now: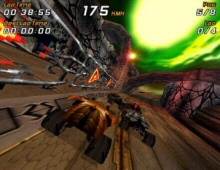 Mad Trax screenshot
People who downloaded this game have also downloaded:
Rollcage, Motorhead, Re-Volt, Moto Racer, Twisted Metal 2