Game Downloads
You're located in category:
KartingRace
KartingRace is an excellent 3D gokart racing game from a Danish author. The game offers two race-modes: practice and race. Up to 6 players can compete via TCP/IP, and the game supports a complete range of controllers, including mouse, joystick, and even the steering wheel.

What sets KartingRace apart from most freeware racing games is the excellent production value and attention to detail. Using OpenGL, the 3D graphics is superb, and is smoothly animated even on a low-end Pentium. There is plenty of detail, including real-life gokart models, shadows that change in real time, and even skidmarks on the tracks as you speed through it. Although I am by no means a racing expert, I can tell that that the karts handle much like their real-life counterparts - or at least closer to real life than karts in SuperKarts do anyway. Inertia, gravity, and car physics are all accounted for in the game, and it is not easy at all to stay in the tracks once you hit a sharp corner at high speed.

Smooth graphics, excellent physics, and fun gameplay make KartingRace one of the best freeware racers you will find. The game is ideal for anyone without a Pentium III computer that is required to run the latest commercial games, but gokart fans in general will enjoy it - especially if you have 5 friends to play against over the Internet. Highly recommended!
Download full game now: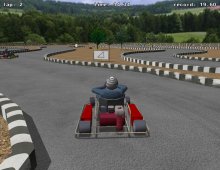 KartingRace screenshot
People who downloaded this game have also downloaded:
GT Racing '97, Go Kart Challenge, Hardball V Enhanced (a.k.a. Hardball 5 Enhanced), Lamborghini: American Challenge (a.k.a. Crazy Cars 3), Re-Volt