Game Downloads
You're located in category:
Go Kart Challenge
Go Kart Challenge is a decent go-kart racing game from Data Becker. The game features a good range of options: three levels of difficulty (Hobby, Amateur, and Pro), three types of drivers (essentially different body weights), 4 original kart models with 8 paint jobs, support for up to 8 players via LAN in single races or tournaments, customizable weather conditions including fog and rain, 4 outdoor tracks, 2 indoor tracks, and 2 zany cartoon tracks. You can even use a versatile track editor to construct your own tracks.

Unfortunately, the game is much less exciting on a real track than its array of options suggests. Car physics leave a lot to be desired, and the control keys are unintuitive and quite unconventional to say the least. Although the game boasts rough and smooth terrain, they don't seem to have much of a different impact on my go-kart. Fortunately, the excellent variety of tracks and good track designs (especially the two "cartoon" tracks) help make the game more interesting, and the track designer helps extend its longevity. Despite its somewhat bland gameplay, then, Go Kart Challenge is worth a look for go-kart fans - at least anyone who wants to play a less demanding game than, say, Precision Racing.
Download full game now: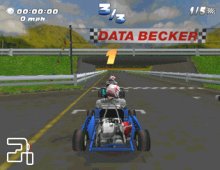 Go Kart Challenge screenshot
People who downloaded this game have also downloaded:
SuperKarts, KartingRace, Nascar Racing 2, Micro Machines V3, Flight Unlimited 2