Game Downloads
You're located in category:
Jimmy Connors Pro Tennis Tour
Review 1:

Jimmy Conners Pro Tennis Tour (or simply Pro Tennis Tour in Europe) is a below average tennis game from Blue Byte. Although it has all the options you find in a typical tennis game (variable court types, tournament or single play, etc.), the game suffers from poor controls and jerky graphics. For example, to serve the ball you must move the crosshairs very quickly to the intended part of the court you want the ball to land on. You only have about 3 seconds to do this, however, and the crosshairs inexplicably moves with the speed of molasses. It took me countless tries (and foregone points) to get my serve to land correctly. The rest of the game is no less aggravating, since it's often very hard to tell where the position of the ball is, and to vary the speed or direction of your shots. Despite having one of tennis' most famous stars to endorse the game, Pro Tennis Tour is best passed over for a better tennis game.

Review 2:

Good tennis game. Named after this fantastic tennisplayer from the 90s/ You can play against eachother or against the computer.
Download full game now: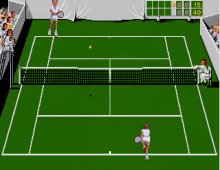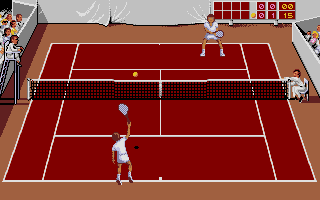 Jimmy Connors Pro Tennis Tour screenshots
People who downloaded this game have also downloaded:
Lamborghini: American Challenge (a.k.a. Crazy Cars 3), International Tennis Open, Center Court Tennis, Allan Border's Cricket, 3D World Tennis