Game Downloads
You're located in category:
Crush! Deluxe
One of the best, and most underrated, futuristic sport games ever made, Crush! Deluxe is best described as a much-improved version of Micro League's earlier Blood Bowl, a futuristic rugby game. David Finn of Games Domain reviewed the game so thoroughly that I'd like to quote most of his review here:

"Despite its rather unique subject matter and being received pretty well, Blood Bowl did fall short in a number of areas. So now Stone Jackal studios, a small company with a vision to revisit this ignored concept, attempts to make right what Blood Bowl fumbled. The culmination of their vision was Crush! Deluxe.

While Blood Bowl was fantasy football, and had its players virtually lifted from a Tolkien story, CRUSH! Deluxe opted to take a different road and created a whole new game with a futuristic theme. CRUSH! also introduces all new (8 total) races, which you will have to become familiar with. This futuristic sports game is set far in the future where races from across many galaxies are filling the CRUSH! league ranks. Your goal is to lead your team, as their coach, to the playoffs and win the title of CRUSH! Champions.

The rules of the CRUSH! game are pretty straightforward. Players are teleported into the game (only one player per a turn) and must find the B.A.L.L (Bionically, Augmented, Lower, Lifeform) by activating the ball bin dispensers scattered around the playing field. However only one has the B.A.L.L the rest are booby-trapped to electrocute the player activating the ball bin (usually this only result in stunning the player). Once the B.A.L.L has been found you must lead your team on a frantic battle to protect the player holding the B.A.L.L and reach the goal (which of the four goals isn't known till the ball is found) while negotiating a hostile playing field filled with booby traps. Of course two other teams will be doing their best to pummel your players and take the ball from you, and make a goal themselves. The first team to score a goal wins the game.

When you start a game you have the choice of a playing Tournament, League, or Exhibition (quick game). Each offers a variety of options including loading and playing with a favorite saved team. Unlike Blood Bowl, which was primarily limited to hot-seat play, CRUSH! offers some stompingly decent multiplayer ability.

While the rules are simple, CRUSH! has truckloads of features and gameplay. As the coach you have the ability to draft a large number of players, although only 9 of them can be fielded during a game. Each player has nine attributes, and a special ability based upon what species they are. As a player gain experience and rank (rookie through Avatar) on the playing field he will learn new skills (28 skills possible), and sometimes acquire new quirks. However as the coach you will need to adjust your budget to their new contracts, as they gain experience their salaries can get quite expensive. Players can also be incapacitated from injuries, diseases, and even die in the ever-vigilant quest for the B.A.L.L.

While seduced by Crush! Deluxe, a few relevant things did bother me. For instance why can't I replace an injured player during the game with an uninjured reserve? Also once the season starts no new equipment or players can be bought, which makes you manage your teams' budget for the season at the very beginning. Another sticky point is that the NP coaches games can't easily be bypassed, and makes it slightly annoying having to wait (albeit abbreviated games) through the other coaches games. By far the biggest gripe I have is that no matter how well my team does or how many Championships I win, my yearly funding stays locked at $900,000. However these drawbacks are ultimately trivial, considering the immense amount of fun Crush! Deluxe can be playing. My only reservation in recommending this game is that most gamers these days are accustomed to multimedia flash. If CRUSH! had 3rd perspective graphics/artwork like Diablo, had a slightly more serious tone and gratuitous amounts of blood, grunts and groans as the teams impacted on the battlefield of CRUSH! I bet it would be a hard game to keep on store shelves. As is, gamers are going to have to look past their craving for multimedia glitz to find the addictive game beneath."
Download full game now: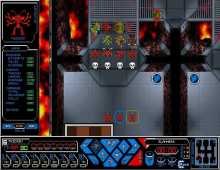 Crush! Deluxe screenshot
People who downloaded this game have also downloaded:
Blood Bowl, Warhammer Epic 40000: Final Liberation, Magic: The Gathering, Cavewars, Syndicate Wars