Game Downloads
You're located in category:
Blobby Volley
Review 1:

Blobby Volley is a fun little Volleyball game by German freeware developers Daniel Skoraszewsky and Silvio Mummert. It is a perfect time waster, simple, very addictive and very fun. The usual volleyball action is here, hit the ball over the net until it hits the ground on one side, but the above average physics and well tuned gameplay makes it an outstanding alternative to Animated Bounce and the like.

There are three challenging AI players if you can't find a friend, or just feel like watching AI play AI, but the real fun is as always, with two human players. The possible tactics are surprising, and with some fast action you can end up with frantic battles for a single point.

Whether you just want to pass some time or have a quick game with a friend, Blobby Volley is a cut above the rest. And at under one meg you can't go wrong!

Review 2:

Blobby Volley is a volleyball game for normally 2 players, but it is also possible to play against one of 3 different computer controlled opponents or to watch 2 computer players playing against each other. The funny thing about Blobby Volley is that the players are represented by blobs of jelly. It has good graphics and closely follows the rules of real volleyball. Players can be either on the some computer or connect to each other through the internet.
Download full game now: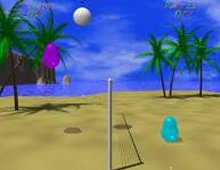 Blobby Volley screenshot
People who downloaded this game have also downloaded:
Caveman Ugh-lympics, John Madden Football (a.k.a. John Madden American Football), Volleyball Simulator, NFL Football, Bluewater Hunter