Game Downloads
You're located in category:
Wolfpack
Mediocre WWII naval combat simulation, Wolfpack offers you the command of German U-boats, US destroyers, freighters and tankers. Good graphics for its time can't hide many glaring omissions that are prerequisite for great sub sims, such as career mode.

Wolfpack does feature an intuitive mouse-driven interface, a decent mission builder, and twelve built-in scenarios, all with interesting objectives. After a few minutes, even casual naval commanders will notice that the game's realism and options are sorely lacking-- especially when compared to similar games like MicroProse's classic Silent Service II or Das Boot. A step forward in graphics, a step backward in gameplay. Try this one only if you're a casual-- VERY casual -- fan of submarine sims and don't mind historical inaccuracies and illogical logistics.
Download full game now: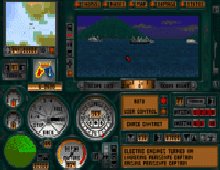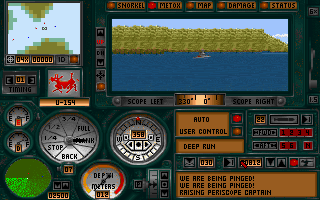 Wolfpack screenshots
People who downloaded this game have also downloaded:
Command Aces of The Deep, Red Baron, Aces of The Pacific, 688 Attack Sub