Game Downloads
You're located in category:
Oil Imperium
Review 1:

Want to be rich? Want to be an oil tycoon? Then download Oil imperium and be one! The game has a great idea but was not so perfectly realized. You'll have to buy oil fields, drill, buy tanks, sell oil, sabotage opponents... I remember playing the German version in the beginning and all the difficulties I had with the language... Don't worry, this one is on English.

Review 2:

Oil Imperium is one of the best business games I have played ever. Not only does the game feature great business management, but it also includes action sequences like when you try to find the best way to the oil fastest or when you have to search for oil. This can be done automatically as it's quite hard to succeed in this unless you are experienced with the game.

The game offers very exciting gameplay with many different options. You can even do sabotage on your competitors oil fields and other similar things. The game also offer multiplayer game which makes this game even more fun.

Review 3:

Another one of those good old business-sims. Played this on my Amiga for hours and hours, I remember that this was one of the first games of that style that got me hooked for months. A great classic that combines fun with realistic elements. Buy Oil Fields, drill for oil, sabotage your opponents. Everything you need for your little Oil Imperium to make it into big business.

This game was created at a time when Dallas and Denver were still THE big soap-operas world-wide - hard to imagine today... This game was - IS - your chance to be a new J.R. Ewing.
Download full game now: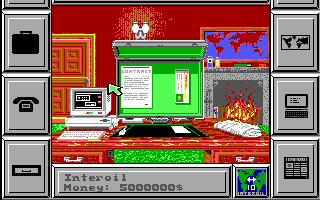 Oil Imperium screenshot
People who downloaded this game have also downloaded:
Oil Barons, Black Gold (a.k.a. Oil Imperium), Ocean Trader, Oil Barons (Epyx), Motor City