Game Downloads
You're located in category:
Objection!
Review 1:

Objection! is a fun courtroom simulation game that is both educational and interesting. Instead of simulating a trial lawyer's entire career or case similar to In The 1st Degree or Perry Mason, the game focuses specifically on the trial itself and what you, as the defendant's lawyer, should respond every time the prosecutor questions a witness. The gameplay is simple: you have to hit the key that raises the correct reason for your objection to the prosecutor's statement (or to remain silent if there is no grounds for objection, i.e. the prosecutor's question is proper). For example, you have to object on grounds that the prosecutor's question is leading, argumentative, based on hearsay, irrelevant to the case, vague, or several more reasons. Every time you choose the correct reason for objection, your score goes up. Similarly, your score goes down if you choose the wrong reason. You also score points for remaining silent if there is no reason to object (by choosing "the question is proper" key). Although that is all there is to the game, hundreds of tricky questions make it ideal for anyone who is interested in the legal process -- especially courtroom trial -- works.

Review 2:

OBJECTION! That question violates the best evidence rule!

Objection Sustained, please proceed with your next question!

OBJECTION! The question is vague!

Overruled, please, let the defender shut up!

Well, that's the main idea of the game, you're the defender of some guy who is accused of committing a murder. In the first level, you will have to gather points by objecting to the questions. What kind of objection do you state? Maybe the question is proper... Well, I couldn't get pass the first level :S so you have to check out yourself what happens after the first one, I'm sorry for this, but I'm only human, I've been told!

There could have been some more attention for the gameplay, you have a couple of buttons which you can choose from and the buttons are only stated at the start of the first level.
Download full game now: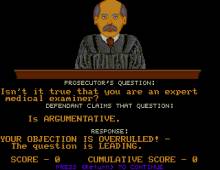 Objection! screenshot
People who downloaded this game have also downloaded:
Crime and Punishment, Life and Death, Life and Death 2: The Brain, Mad TV, Executive Suite