Game Downloads
You're located in category:
Mad TV
Review 1:

I think this one is unique - TV station simulation! Make the best TV station in the city...and try to get that girl. It will not be an easy task with all the options You have... Oh, the game can be played on English or German, Your choice.

Review 2:

Mad TV is one of the odder strategy games in existence. You are hired as a television-programming director by a crusty, cigar-smoking boss who gives you the job of beating two competing stations out of various Emmy awards. To do this, you have to win over the audience by playing the programs that they want to watch while making money for the station by airing commercials. Sound easy? Think it's a snap? WRONG.

The commercials require a certain percentage of viewers in order for the station to get their money, which means you have to buy interesting programs from the limited resources available, which costs money you have to make from the commercial ads, which means…ARGH!!!! In addition, you are vying for the attention of Betty, a cute little snob of a television exec who doesn't give you the time of day unless you cater to her whims. Plus, this game is timed so you have to be quick on your feet or you'll be out on your bum.

This German game has cult status in Europe and is considered to be among the best of the best. Sadly, there is little help in cyberspace as to how to actually PLAY this game. The only method I have found to understand this game is by trial and error. Still, the AI is pretty smart and the bizarre factor is high. Since this game is relatively small, it's worth a download.

Review 3:

Ever complained 'bout the bullsh** they show on Television? Well, here's your chance to prove you can do it better! Once you saw that beautifil human being named Betty on Television there's only one thing on your mind ;) so you set out to the TV-station where - strange how things sometimes happen - you're hired by the boss to make Mad TV the Number-One-TV-Station. Now you can see if you can impress the woman of your dreams... But don't forget to concentrate on TV-Business, coz' that's the main thing! Very much fun this game - you play against two other guys played by the computer. You can see the reactions of your audience in a little monitor. Buy movies, news and ev'rything and see if you're good enough.

Review 4:

One hell of a strategy/simulation game. This one has never been 100% clear to me, but I'll try to explain what this game is about. You become the new owner of a TV station, you'll have to buy movies, arrange advertisers, make sure that the news is up-to-date and you have to make a girl fall in love with you.

There's nothing to tell really, except that this game is really hard and it will cost a few hours before you will be fast enough to see what you have to do and get the point of this game, really.

Review 5:

A TV station management game, quite a novel idea that is well executed. Lots of humour (some of the animations will at least make you chuckle), good AI and a decent economics model (if that's what yings your yang).
Download full game now: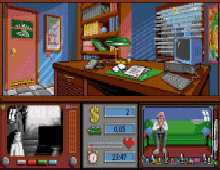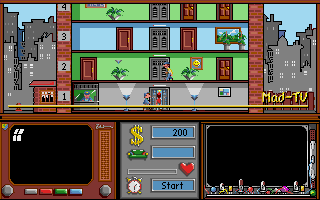 Mad TV screenshots
People who downloaded this game have also downloaded:
SimFarm for Windows, SimEarth, Sim City 2000, Executive Suite, SimTower