Game Downloads
You're located in category:
MiG-29M Super Fulcrum
A great update of Simis/Domark's underrated flight sim MiG-29 Fulcrum, which was released one year earlier in 1990. While essentially the same game (with the same campaigns and planes), Super Fulcrum improves on the outstanding predecessor in every respect, the most significant being graphics upgrade and more varied terrain-- instead of the mostly flat ground in MiG-29 Fulcrum, Super Fulcrum sports entire mountain ranges and more ground features. In contrast to only one loadout in the previous game, Super Fulcrum offers three: air to ground, air to air, and a mix of both.

The great flight dynamics that Simis is famous for is intact, with even more tweaks to the engine to make the game more realistic. Read Iwan's MiG-29 Fulcrum for details on theatre of operations and other game-specific features. In short, if you like MiG-29 Fulcrum, you'll love Super Fulcrum. Yet another testament to Simis' strength as flight sim developer, and a game that paves way to their seminal classic, Tornado.
Download full game now: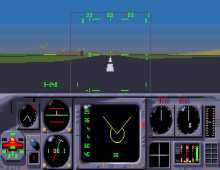 MiG-29M Super Fulcrum screenshot
People who downloaded this game have also downloaded:
F-15 Strike Eagle III, F_A-18 Hornet 3.0, Red Baron, Longbow 2