Game Downloads
You're located in category:
Micro Machines 2
Review 1:

Part two of a great game. Better graphics, more toys to race, more tracks and interesting multiplayer options.

Review 2:

Micro Machines 2 takes off exactly where Micro Machines 1 ended. With improved graphics and sound and many new cars, boats, vehicles etc. you will get many more hours racing around on tables, floors and other weird places.

You can play up to four different human players at a time which gives you many opportunities do "gain respect" from your friends and beat them by driving more wild and faster than the other ones.

Get this racing game now!

Review 3:

Micro Machine games are departures from normal racing games: instead of powerful F-1, you'll race toy cars around homemade courses such as Dad's desktop or Mom's kitchen, each with its own obstacles. Not only do you have cars that require different handling techniques for each course, but in Micro Machines 2 you even get to steer a hovercraft or an helicopter. There are also different playing modes which include innovative "head-to-head", in which you get points when you're so fast you drive out of the screen while your opponent is still in the back part of the screen. Both are great fun, and very addictive :)

Review 4:

Cars racing over your kitchen table, slipping on your marmelade spots, bumping against your knife, launched by your spoon and eventually, slipping off the table. You have no idea what I'm talking about??? About Micro Machines 2 offcourse. Choose your driver and your car/helicopter/boat etc. and go driving on kitchentables, through waterpipes and much more!

Compete against other (computer or human) players or race in a tournament. It's an original game, the graphics are good, the sounds are allright and the game is addicting as hell!

One of the best racing games of this kind ever, really worth the download, check it out!
Download full game now: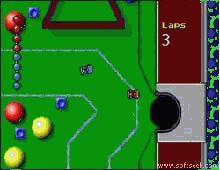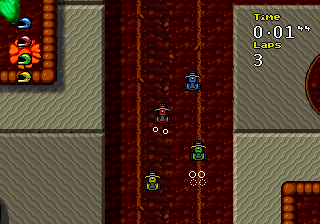 Micro Machines 2 screenshots
People who downloaded this game have also downloaded:
Micro Machines, Sim City 2000, Settlers II Gold Edition, The, Micro Machines V3, SimEarth