Game Downloads
You're located in category:
Merlin
This is a funny little game from the same people that made Tornado. The game is very simple, and was designed as a recruitment tool for the Royal Navy. You have 2 minutes to land your Merlin helicopter (the British replacement for the Sea King) on the deck of a frigate. Possible scenarios are easy (ship stationary, no choppers nearby), medium (ship moving, some choppers nearby), and hard (ship moving, hurricane-like winds and choppers all around the frigate). When you land, you receive a percentage score and a comment. As with Tornado, the graphics are entirely polygonal and very clear, and the controls are very simple.

Flight modelling isn't 100% realistic (more like 75%) as there's no torque, no translational lift and no veering up from the helicopter. No manual is needed, as there is none to be had. All controls are laid out to you when you start the game. This game is really just for entertainment, as it was sold for a really low price (under L5 in some places) and there's only one thing to do - land. Get it if you want it, and you'll find yourself playing this one quite often.
Download full game now: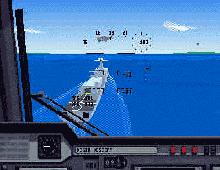 Merlin screenshot
People who downloaded this game have also downloaded:
Operation Overlord, Firestorm: Thunderhawk 2, Hind, Out of the Sun, G-Force