Game Downloads
You're located in category:
Fighter Bomber (a.k.a. Strike Aces)
Review 1:

Fighter Bomber (or Strike Aces in the US) is a fun but very challenging "recreational" flight-sim set in a bombing competition inspired by Gen. Curtis LeMay's training events. You can fly 6 of the world's most popular aircrafts including the F4 Phantom, F15E Strike Eagle, F111 Aardvark, Mig 27, RAF and Luftwaffe Tornado, and Saab Viggen. Mid-air refuelling is available, but very difficult. Realism is dubious, but the emphasis is clearly on playability rather than historical accuracy. Handling and control for each plane is distinctive enough to convey the aircraft's peculiarities, without too much detail as to confuse novice players.

Graphics in the game is excellent for its time, with many famous US landmarks (e.g. Mount Rushmore) to liven up dogfights. Not that you'll have time to enjoy the view, though-- Fighter Bomber is a *difficult* game: be prepared to get shot down by enemies that sneak up from nowhere, even in the early missions. This makes the game playable only to flight sim experts, although anyone with enough patience will be able to enjoy the great gameplay after getting the hang of the basics. Overall, this is a nice update of sorts to Accolade's earlier stunt sim Blue Angels, with many more options and good enemy AI. Recommended!

Review 2:

Fly around with different fighterplanes. The controls of the game are excellent. The polygons are a bit crappy, but hey, what do you expect in those years.
Download full game now: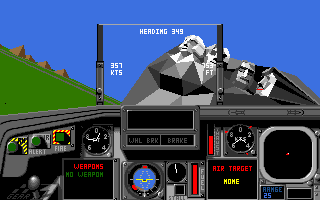 Fighter Bomber (a.k.a. Strike Aces) screenshots
People who downloaded this game have also downloaded:
F-15 Strike Eagle III, F29 Retaliator, F-16 Fighting Falcon (a.k.a. iF-16 Fighting Falcon), F_A-18 Hornet 3.0